Food is about fun and flavors – new and exciting tastes properly prepared to perfection.
Here's the latest on what we've cooked up!
Angus Meats Specialty Blended Sausages – Old World European flavors!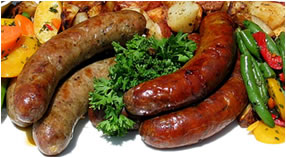 Basque Style has a polite mixture of Ripe Chiles that add depth to a smoky medium heat for an extremely supple flavor. Full bodied caramelized Herb and Spice Medley with natural Olive Oils from the Mediterranean Coast completes this rounded intensely robust sausage.
Definitely delicious with Clams, Mussels, Shrimp, and Chicken in a spicy Saffron Bake Rice Dish, or a Home-Style Country Omelet with Crispy Hash Browns and Fluffy Biscuits with Gravy.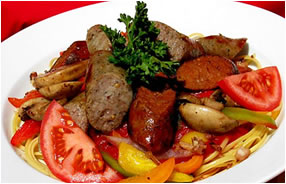 Milano Style has freshly Roasted Garlic in Olive Oils that create a complex, almost Ripe Fruit-Rich Finish to each morsel. A special combination of Imported Spices strengthens the boldness of each moderately intense Layer of Flavor.
Use with Fire-Grilled thick cut vegetables, Flat Bread and a drizzle of fresh made Herb Oil on top, or serve with a rich zesty slow cooked Tomato Sauce on your favorite Pasta.
Rosemary Sausage is bright and fresh with Crushed Red and Black Pepper that creates a warm touch on the back of the taste buds. A full flavored Blend of Spices designed to complement the juiciness of each bite while maintaining a Traditional Country Sausage Finish.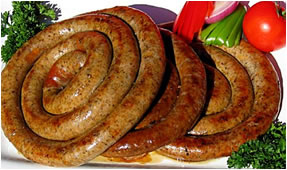 Prepare with a creamy style Herb Cheese Sauce on Penne Pasta and bake, or with a home made Horseradish Mustard Dip with natural Fried Potatoes.
Sicilian Style has oven toasted Fennel Seeds that gives a slightly sweet and savory balance of flavors. The rustic aromas of the Herbs such as Marjoram are added to delight the palate but not over power the senses.
Prepare with a fresh sauté of Herbs, Tomatoes, and Sweet Onions on top of Rice, or a home made Pizza with thick cut Mushrooms on a Mozzarella and Romano Cheese Crust.
These unique blends of sausages will complement your menu with fresh ideas and new tastes for the appetizing pleasure of your guests.